Enjoy a classical Concert in Vienna, one world leading cities for classical music.
Vienna offers many musical delights during the Christmas season.
Celebrate the New Year in Vienna with one of our concerts and enjoy some of the most beautiful pieces of classical music.
some Vienna Fun Facts – Test Your Knowledge!
The Vienna Philharmonic Orchestra is probably the best known of all Viennese orchestras and generally regarded as one of the finest concert orchestras for classical music in the world.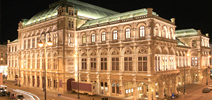 The Vienna State Opera is both, a venue for operas and a company for operas. The Vienna State Opera is based in Vienna, Austria and it's history can be tracked back to the middle of the 19th century.