Vienna Music Overview
The long and rich tradition of Viennese folk music is characterised by joyful tunes and dances. Historical reports describe musicians arriving in Vienna by boat to play their traditional music. In the 19th century, there were various musical ensembles, mostly trios or quartets who came from the outskirts of Vienna. Their instruments were violin, clarinet, harp, guitar and double bass. Beginning in 1830, the Viennese button accordion also found its way into this genre of Viennese music.
Johann Strauss Waltz
Music in Vienna is strongly linked to the Strauss family and in particular to Johann Strauss II, who composed light music, mainly dances and operettas. Johann Strauss II composed more than five hundred waltzes, polkas, and other forms of dance music. His father, Johann Strauss I, was also a composer of dance music, but he was never as well known as his oldest son, who was dubbed "The Waltz King" by the people of Vienna. The younger Johann Strauss was primarily responsible for the popularity of the waltz in 19th century Vienna. His most famous works are the "Blue Danube" and "Kaiser" waltzes, as well as his operettas, "Die Fledermaus" and "Der Zigeunerbaron".
Vienna's traditional music gained unprecedented popularity in the late 19th century. This boost of Vienna Music was closely associated with the Schrammel brothers, Johann and Joseph. A whole genre of traditional Viennese music is named "Schrammel Music" after these brothers. They also provided inspiration for other musicians and composers of the period, including Johannes Brahms and Johann Strauss. The young Schrammel brothers demonstrated extraordinary musical talent and were admitted to study violin at the renowned Vienna Conservatory. However, they decided to turn to "Heurigen Music", popular tavern music, for mainly financial reasons. After the disastrous stock market crash (May 8, 1873), economic conditions were not easy in Vienna, so in 1878 Johann and Joseph Schrammel decided to form the trio "The Nussdorfers" together with Anton Strohmayer. Later, the famous clarinettist Georg Dänzer joined them, and they gained tremendous popularity as the "Schrammel Quartet". In just seven years, the Schrammel Quartet composed more then 200 pieces of music. Johann Schrammel died in 1893, and his brother Joseph followed in 1895.
Traditional Viennese Music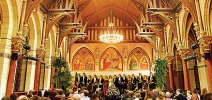 In Austria, it is customary to waltz into the New Year with "The Blue Danube", the most famous Viennese Waltz by Johann Strauss II.