Vienna State Opera overview
The Vienna State Opera is both a venue for operas and a company for opera. The Vienna State Opera is based in Vienna, Austria and has its origins in the middle of the 19th century. It is worthy of notice, that the members of the famous Vienna Philharmonic Orchestra are recruited solely from the musicians of the Vienna State Opera.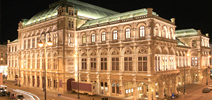 Location: Vienna/Austria
Year of Construction: 1869
Architects: August Sicard von Sicardsburg and Eduard van der Nüll

Tickets for Vienna Opera
Vienna State Opera history
The Vienna State Opera hall was completed in 1869 and was the first major building that was commissioned and authorized in 1861 by the "Viennese City Expansion Fund". The construction took eight years and the building was designed in the Neo-Renaissance style. The Vienna State Opera was the first opera that was built in Vienna. The opening performance was of Mozart's "Don Giovanni", on May 25, 1869. Until the end of the Habsburg Monarchy the building was called the "Vienna Court Opera". Since 1920 it has been known under its present name, the Vienna State Opera.
In the last year of World War II, the Vienna State Opera was nearly destroyed during an allied bombing raid intended for another target. Only the front section and the main stairways remained intact. The stage and the auditorium, however, were completely destroyed. Also tragically lost were the stage settings for 120 operas and over 150,000 costumes. The Vienna State Opera was then relocated to the Vienna Volksoper and the Theater an der Wien.
After some debate the decision was made in 1946 by Chancellor Leopold Figl to restore the home of the Vienna State Opera to its prewar glory. The reconstruction was completed in November 1955 and the opera reopened with a performance of Beethoven's Fidelio, conducted by Karl Böhm.
The Vienna State Opera as a company
The Vienna State Opera produces annually up to 60 operas in approximately 200 performances. This means that opera enthusiasts could attend a different opera each day of the week. To achieve this outstanding service the Vienna State Opera employs over 1000 professionals of various disciplines. The annual budget of the Vienna State Opera is approximately 100 Million Euros. The Musical Director (currently Seiji Ozawa) of the Vienna State Opera is also the head of the company.