About Viennese Waltz
The Viennese Waltz is a ballroom and partner dance. Based on a ¾ beat, the basic step of the Viennese Waltz consists of six steps and thus includes two full bars. At a tempo of about sixty measures per minute, the Viennese Waltz is twice as fast as the Slow Waltz. In Austria, it is customary to waltz into the New Year with "The Blue Danube", the most famous Viennese Waltz by Johann Strauss II. This composition is also performed in the New Year's Concert of the Vienna Philharmonic Orchestra
Viennese waltz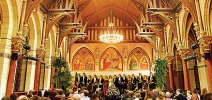 Origin: 18th Century Vienna
Music: Waltz
Genre: Ballroom Partner dance

Find here tickets for Johann Strauss Concerts in Vienna
The origin of the Viennese Waltz lies in the "German Dance", which was first described around 1770. However, the Viennese Waltz did not always enjoy universal popularity. For many years, the waltz was considered too immodest to be danced by unmarried women. The spread of the Viennese Waltz was hindered by the fast pace of the dance as well as the fact that it exposed dancing ladies' legs to view. Thanks to the Congress of Vienna (1814), however, the Viennese Waltz came to replace the previously popular French Minuet. The famous compositions of Johann Strauss I, Johann Strauss II and Pyotr Ilyich Tchaikovsky raised the Waltz to a highly respected musical genre. In the popular Operetta genre of the late 19th century, the Viennese Waltz was always a central element.
Viennese Waltz evolvement
After World War I, the Viennese Waltz lost much of its popularity, even in Vienna. The Viennese Waltz was revived in the 1930's, when the national socialists forbade all "un-German" dances. These days, there are two types of Viennese Waltz: the International Style and the American Style Viennese Waltz. In dance competitions, the types of dance steps are regulated to include the "natural turn", "reverse turn", and "closed change". More creative steps like "left whisks" or "contra checks" are forbidden. These strict limitations do not apply, of course, in less formal environments.