Classical music venues in Vienna
Vienna's glorious heritage is strongly connected with classical music. As undeniable capital of classical music, Vienna was home to such genius musicians as Brahms, Beethoven and Mozart. Even though they belong to history now, their music continues to delight million of music lovers from all over the world, who visit Vienna and its magnificent venues for classical music. Such concert halls are for instance the Vienna Volksoper, the Vienna State Opera and the Theater an der Wien, which are still very popular venues for classical music and each of these venues is offering hundreds of performances and events each year.
Vienna owes its many magnificent concert halls to the house of Habsburg, which ruled for over six centuries in Vienna. It was the aegis of the Habsburg Emperors that made Vienna attractive for composers like Beethoven and Mozart. Furthermore, under the patronage of the Habsburgs have been built, most of the palaces, concert halls, opera houses and churches that draw until today the attention from visitors from all over the world. Such attractions are for instance the Schönbrunn Palace, which used to be a hunting lodge for the Holy Roman Emperor Maximilian II or the Vienna Hofburg, which was the winter residence of the imperial family.
Famus concert halls in vienna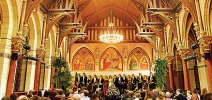 The theatre was named for its location on the banks of the Wien River. The river now flows below the city's surface at this point in its course, and it has made room for the Naschmarkt